COVID-19 impact on retailer sentiments in Pakistan

Retailers globally have all been hit severely by the control measures to curb the spread of COVID-19. In Pakistan, retail sales have been hugely affected when lockdowns came into effect across cities in the markets since 19 March, 2020.

According to a retailer sentiment survey for independent stores conducted by GfK across the six major cities of Pakistan, the one common major challenge faced by majority (80%) of the retailers is managing operational costs. A smaller percentage (38%) of retailers in Pakistan are facing no support from distributors or brands to defer on payments cycle.

In effort to improve sales performance, retailers in Pakistan are finding alternative solutions. Nearly 3 in 5 retailers (59%) have chosen to promote their services online through social media such as Facebook, while over half (51%) have expanded their coverage for home delivery service. A significant 43 percent of retailers are choosing to do nothing and just waiting it out—for the government to remove the lockdown.

Meanwhile, majority of the retailers (52%) are expecting that this pandemic will prevail till the end of 2020 and 43 percent are unsure when the conditions would get back to normal. An optimistic 5 percent are hopeful it will to get better after Ramadan.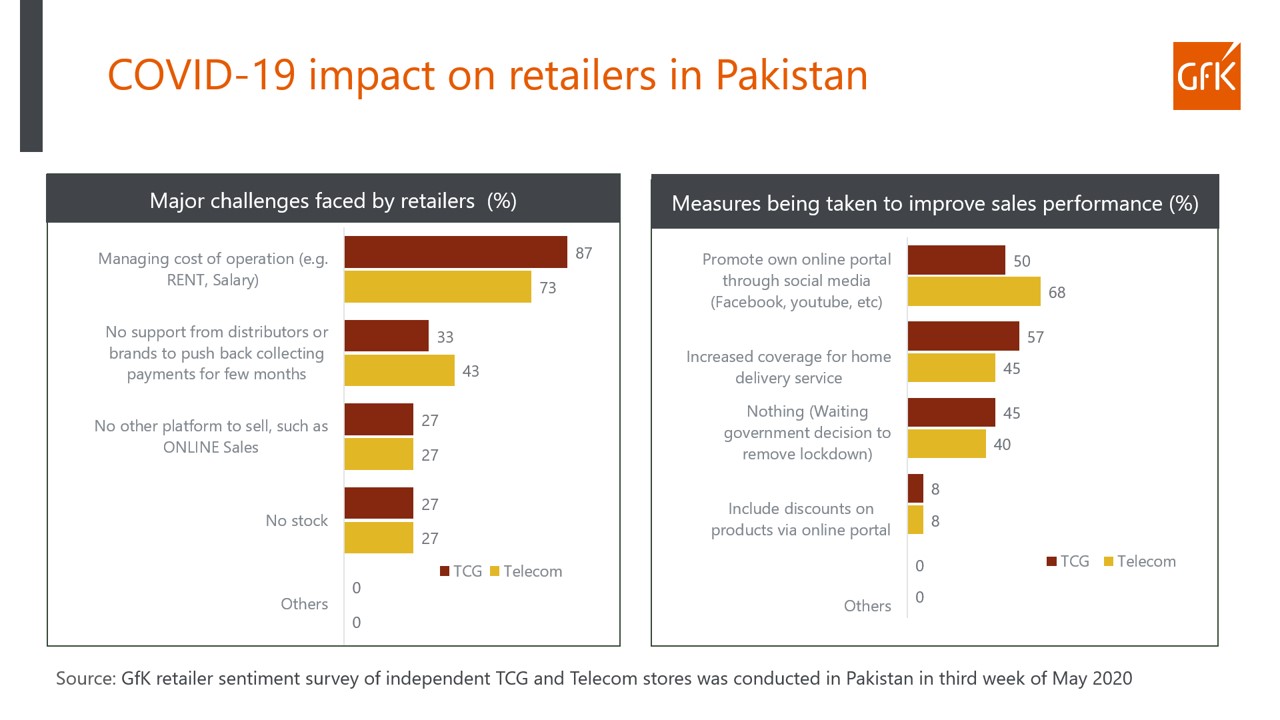 GfK's retailer sentiment study was conducted across 80 TCG retailers and Telecom shops in 6 major cities of Pakistan i.e. Karachi, Lahore, Islamabad/RWLP, Faisalabad, Peshawar, and Multan in the third week of May 2020, to gain a better understanding of the COVID-19's impact on retailers and how they are coping with the situation.