Consumer spending post-Brexit: the 3 factors to consider (confidence, price and values)
Forget the hype - what do people's personal statements and purchase behavior say about how Brexit will affect us?


Consumer confidence shows signs of cautious, but growing, optimism

Despite a year of gloomy media headlines, British consumers' economic confidence held steady throughout 2019, improving 3 points across the full year. It didn't manage to push into positive territory – but a cautiously increasing optimism is discernible.

A really telling indicator is the January data, which shows that UK confidence improved 2 points following December's General Election results that finally set our Brexit date in stone. This first data following that vote shows confidence jumped from -11 measured immediately before the December vote to -9 in January. This indicates that people across the UK don't' fear Brexit itself – it was the uncertainty that was bearing them down.

Importantly, the measure for people's confidence in their own personal financial situation over the next 12 months has improved three points to sit at +6; five points higher than in January 2019. And their confidence in the general economic situation over the next 12 months has also improved three points to -24. While this negative value indicates that there are still clear concerns, it is nevertheless 15 points better than January 2019 and is showing a steady upward trend over recent months.

The only measure that has dropped is people's view on whether now is a good time to make big purchases, such as furniture or electrical goods. While this measure still sits in positive territory at +1, it has dropped two points since December – but this is normal in January, when people are often feeling cash-strapped following Christmas spending.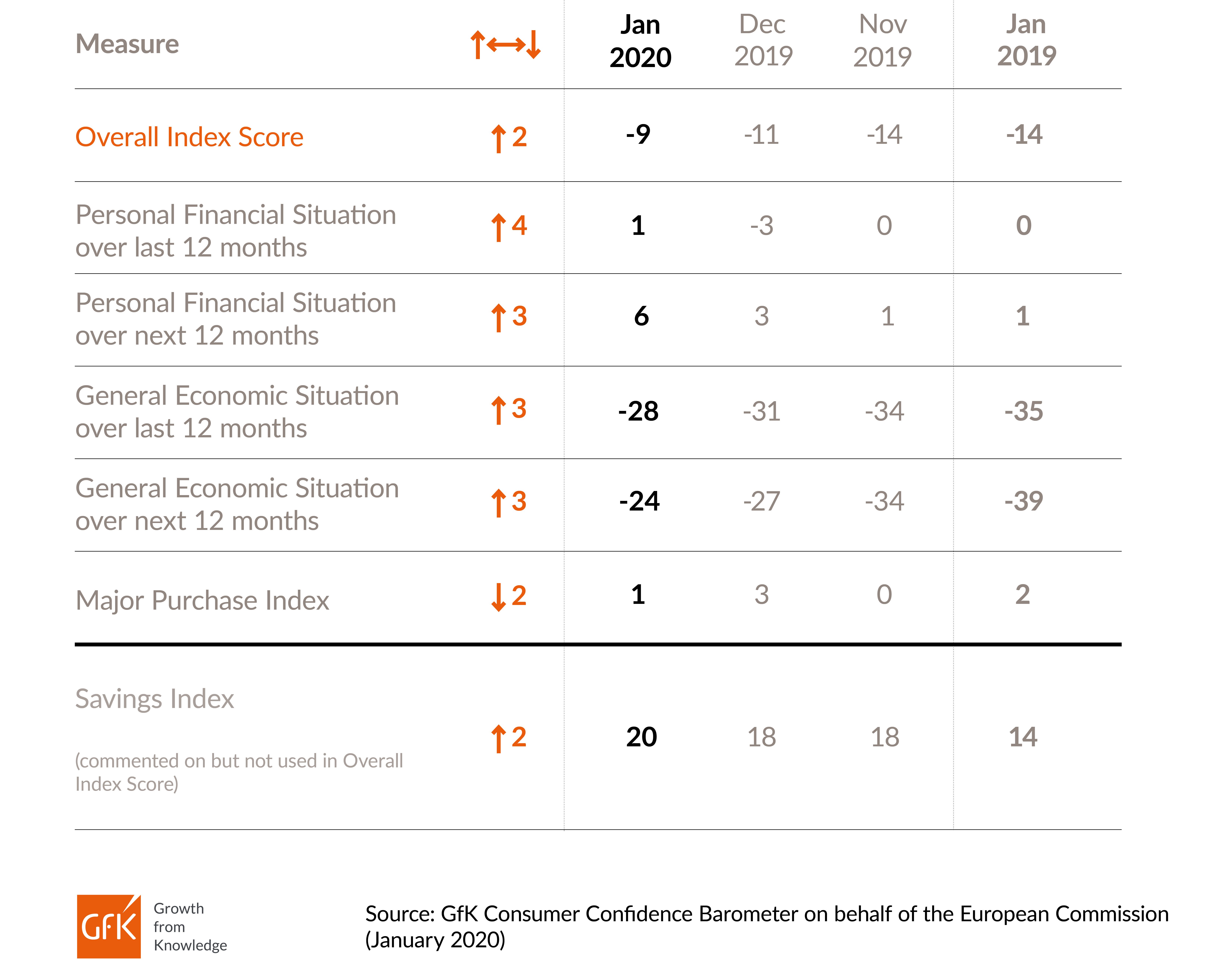 What we are seeing is people feeling positive about their own personal finances, but still anxious about the country's wider economy, despite recent signs of some lightening of that. With this mindset, people are likely to continue spending at their current level or slightly higher - but are unlikely to make significant spending increases until they have more certainty on how Brexit will affect the UK economy in the medium to long term.

Is Brexit likely to affect Tech & Durable sales?

The Tech & Durables retail market has changed significantly over the last three years, but this isn't all because of Brexit.

Our point of sales (POS) data shows that the market is battling a huge slow down. A lot of this can be attributed to the lack of innovation in the market, as the only growth we see is in new product groups, such as Headphones (driven by Bluetooth and True Wireless Ear-pods), Core Wearables (incl. Fitness trackers and Smart Watches), and premium smart phones. We have also seen newer, more innovative brands - particularly Chinese brands - enter the market and perform well, taking sales away from some more established brands.

We are also tracking increasing numbers of consumers who are more interested in experiences than possessions, or "prefer to own fewer but higher quality" items. The products that are doing well are those that bring an enriched experience or added convenience to people's everyday lives, such as Smart Speakers.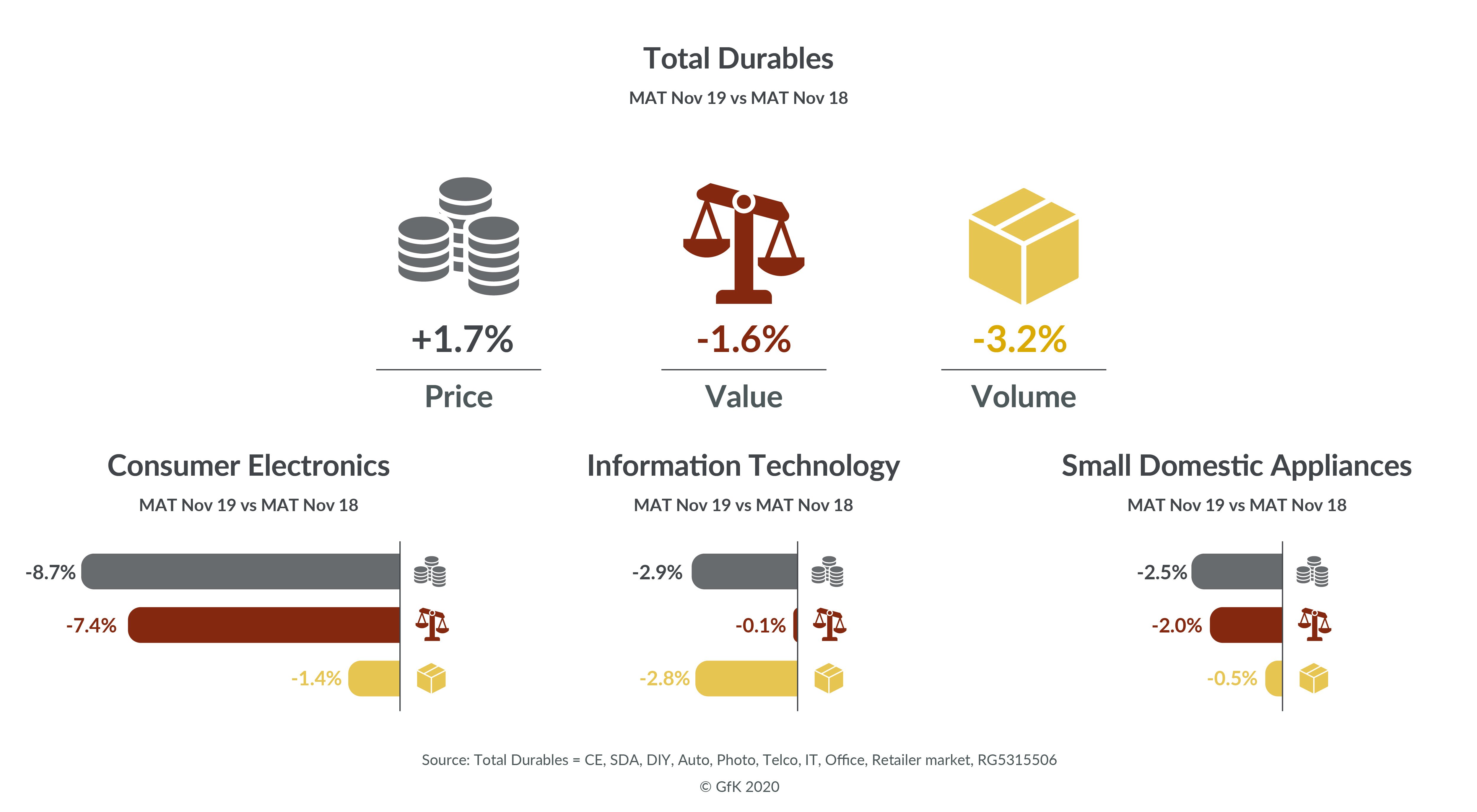 The big question for 2020 is: will Brexit trigger price increases for UK consumers?

After the Brexit referendum vote in 2016, prices in Tech and Durables increased sharply, because the pound dropped in value. This made component parts manufactured abroad effectively more expensive, and UK manufacturers and retailers had to pass at least some of this cost on to the consumer.

So in 2015, the average selling price (ASP) growth rate for durable goods was -16.1%, but shot up to +12.8% in 2016 and to +15.8% in 2017. The trend for the next years saw consumers buying fewer products but spending more on them – partly due to the increased average prices, but also due to consumers investing in more expensive and high-end products. From 2018, price growth then started to slow, as the total durables market saw sales struggle.

However, the situation in 2016 was extreme, as the referendum result came as such a shock to financial markets that were not expecting a 'leave' vote - and so the pound dropped significantly. This is unlikely to be the case now, as markets have had time to prepare for Brexit and there is not that same shock factor to send the pound plummeting.

On the other hand, the trend continues of consumers buying fewer but higher quality items– and this may well escalate if prices do increase post-Brexit due to (e.g.) import taxes if a free trade agreement cannot be established.

Will consumers be more likely to 'buy British' post-Brexit?

"Made in the UK" is currently cited by a quarter of British shoppers as influencing which products they select to consume or put on their body. However, there are other factors that are influential with greater numbers that may swing the purchase decision towards non-UK brands, if the 'made in UK' options do not also tick these boxes: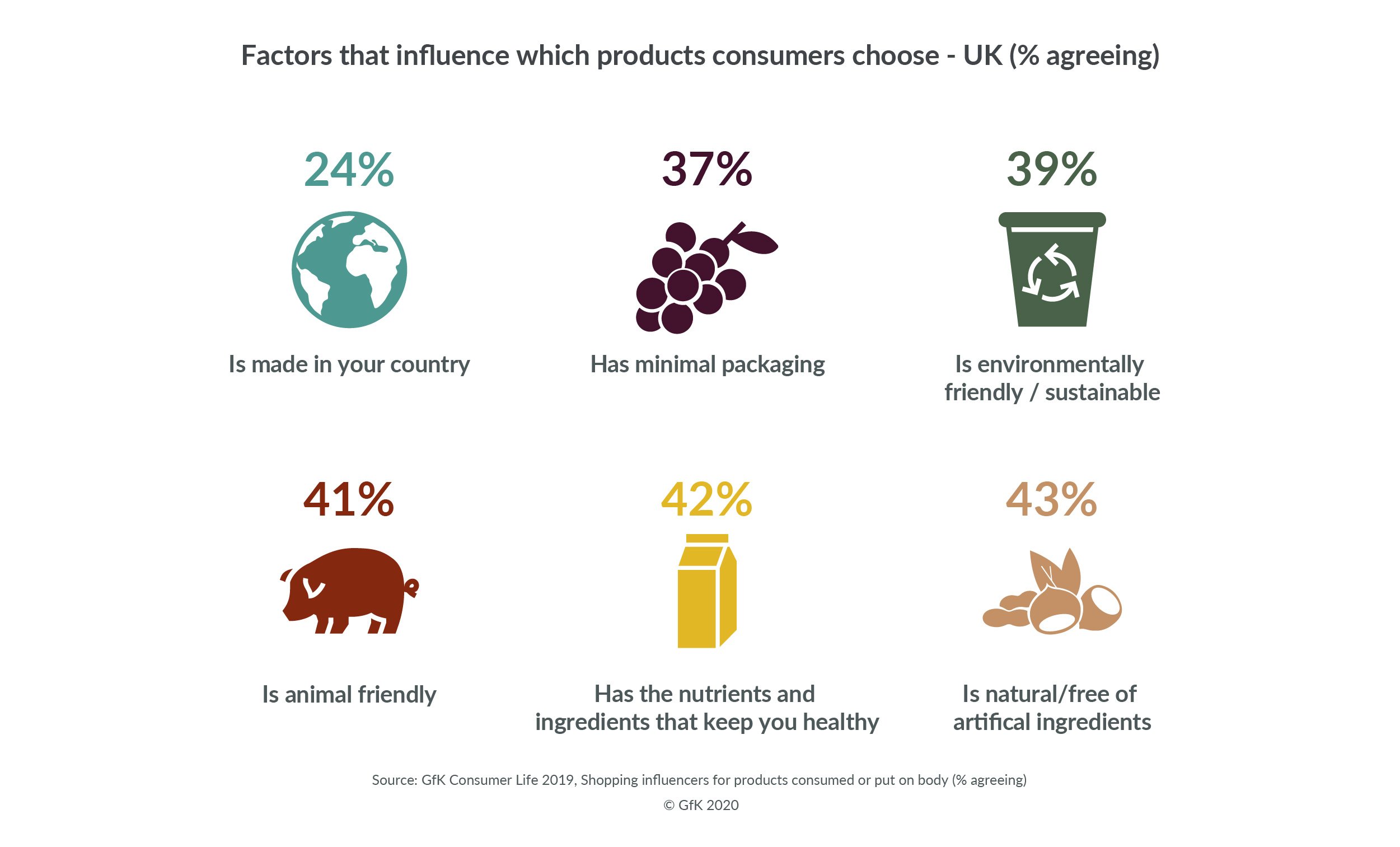 The overseas threat becomes even more pertinent, when we see that "internationalism" has increased more than any other value for Britons, in terms of where they rank it in their top 50 personal values.

In the last five years, it has risen 11 places – from just 42nd place in 2014 to a solid 31st place in 2019.

While it still sits only in the middle third of the ranking, the 11-place jump is unbeaten by any other value except "creativity" (also an 11-place jump), with 37% of the UK population now saying that "internationalism" is an important personal value for them.

So, although a quarter of Brits are keen on "made in my country", there is also an increased mindset of embracing international options. UK brands are wise to be conscious of this and give their consumers every reason to 'buy British'.

Adding to this already complex picture, over a quarter of UK shoppers say they "will only buy products or services from a trusted brand", and only 15% will settle for an inferior product or service if the one they want is not available when they need it.

This could play in favour of either British brands or overseas brands, as consumers are continuing their downward trend of loyalty to one specific brand, and increasingly inclined to shop around and choose between all trusted brands, based on best value for money and good reviews.

Conclusion

If we combine all of this, we get a picture of a UK population that is approaching Brexit with a steady but careful mindset of 'carry on as normal' and 'wait and see'.

They have a fairly positive view of their personal finances, but are unlikely to make any big investments until they've seen how the UK economy settles post-Brexit. Significant numbers want to buy from trusted brands and, when they do treat themselves to something special, it will be less often, but at a higher price point. But whether daily shopping or special treats, consumers will continue the now established habit of shopping around for the best deals – so decision on price points and promotion strategy will continue to be the deciding success factor during 2020.

For manufacturers and retailers, the key message for the next 12 months is to focus on quality combined with value for money, and products or services that deliver enriched experiences or greater convenience. Brands should also look to the growing trends where they can differentiate themselves, such as consumers selecting brands that support a cause they believe in - be that health, sustainability etc.

If you have any questions about Consumer Life, Consumer Confidence or POS tracking please get in touch.