Consumer sentiments, behavior and consumption patterns during the Circuit Breaker in Singapore

Singapore's circuit breaker commenced on April 7, 2020 in bid to suppress the spread of COVID-19 in the country. The partial lock down with curbs in movements and interactions in public and private places was initially to be lifted on May 5, but was extended till June 1 .

An online study was conducted by GfK Singapore among 477 of their Digital Trends Measurement panelists to uncover the sentiments, behavior and consumption patterns of Singaporeans during the COVID-19 circuit breaker.
The top concerns of consumers in Singapore during the circuit breaker when the survey was being conducted were health (17%), money (17%) and economic fall in the wider environment (16%). While most of the respondents aged 55+ indicated health as their topmost concern, those aged between 35-54 were more worried about money and family members.

The survey results show that cooking food at home is the dominant choice of meal arrangement (51.4%) compared to other alternatives such as online delivery services and take-out.

When it comes to online shopping, over nine in ten (91%) of the respondents were already doing so before the COVID-19 outbreak in Singapore, but more than half of them have increased their online shopping during this period. The study also revealed an interesting insight, that is the current situation has forced about one-third of those who never shopped online before, to begin doing so, and this is mainly among those aged 35 and above. Personal hygiene and household grocery items are the key items purchased online during this period.

With people spending more time indoors, the survey results revealed a higher level of engagement with digital media avenues such as social media and online websites, driven by individuals across all age groups. TV continues to remain a relevant entertainment option as close to half of all respondents say they are watching more TV since during the circuit breaker compared to earlier.

Gov.sg (online website) and social media emerged as the top two main sources of news, reflecting the importance of digital and online for news transmission during this crisis period. However, local news channels (TV, Digital News Websites & Newspaper) continue to remain relevant with 42 percent still relying on them as the one of the key sources of News during COVID-19.

The GfK survey also asked respondents about the first thing they would do once the circuit breaker measures are eased. Meeting friends and family and eating out are the two top activities selected, followed by overseas travel.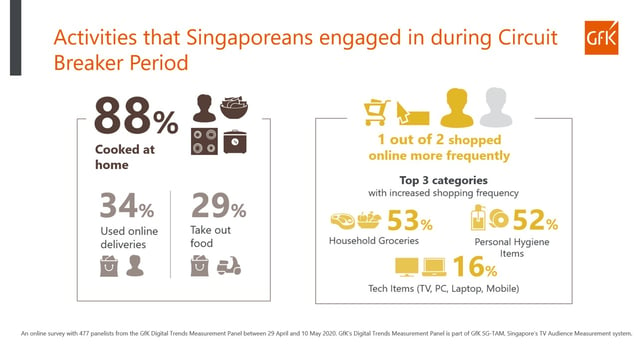 Click here to download the infographic.
About the survey
The online survey was conducted among 477 from GfK Singapore's Digital Trends Measurement panelists aged 15+ between 29 April and 10 May 2020. Majority of the respondents are aged 25-54 (76.7%), and in PMEB (45.1%) or white collar professions (21.8%), working or studying from home (48.4%), with 22.6% still going to work (essential service outside of healthcare) and the rest are freelancers temporarily out of work (11.9%), retirees and homemakers (13.8%) or healthcare frontliners (3.1%).