Black Friday, Cyber Monday, Singles' Day, Christmas:
Will you cross the 2019 finishing line as a winner?
Act now to maximize sales: trial our Weekly POS Tracking with our special deal

Take advantage of our Black Friday offer and turn the power of the latest POS tracking into your sales success. Sign up now and you'll receive POS data for eight consecutive weeks in the most critical promotional period of the year for a special price that includes:
Market segmentation by technical key features/product sub-segments (sales units/value/price)
Brand shares for total market and by key features/product sub-segments (sales units/value/price)
Complete model hit list - sales units/value/price and key features (for weeks in 2019)
Data for calendar weeks 45 to 52 in 2019, and comparable weeks from 2018
Weekly Panelmarket
Most of the time it doesn't matter if a consumer buys a product this week, or next, but there are some special weeks when discounting means buying now is essential. That's why in the global technical consumer goods market, nearly 25% of all sales happen in just 10 weeks of the year. And one of biggest is Black Friday.
November sales events' sales value growth


Black Friday week versus previous week

EU5 = France, Germany, Italy, Spain, UK
Source: GfK Point of Sales Tracking
Revenues on Black Friday are already higher than Christmas and the January sales, and we expect 29th November 2019 to be the biggest yet. Black Friday is a key promotion to embrace and optimize if you're a retailer or manufacturer. And, of course, there's more ahead in the upcoming weeks: Singles' Day, Cyber Monday, and Christmas.
Black Friday sales top Christmas revenues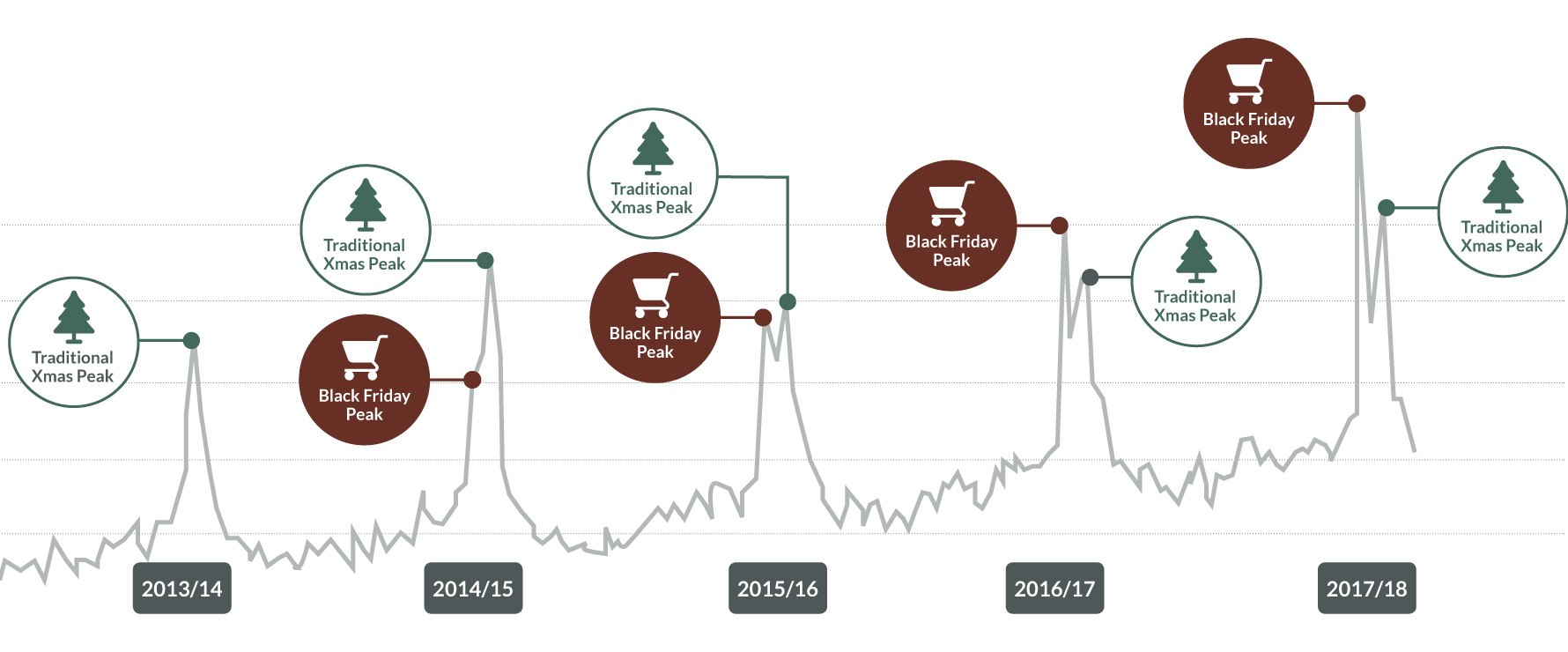 Technical Consumer Goods total – EU5 (Germany, France, Italy, Spain, UK), Poland, Russia, Brazil
Source: GfK

Savvy, bargain-loving consumers will be searching for great deals. Are you ready for November's big sales days? Are you equipped with tools to track and adjust your actions to maximize the sales opportunities? Can you monitor your competitors' performance and respond fast?

Our Point of Sales Tracking equips you with week-to-week sales figures so you can get the most from the golden weeks of the year:

Understand your competitive market position on a weekly basis
Evaluate sales before big events to estimate promotional sales spikes
Compare your brand performance with your competitors during Black Friday, Cyber Monday, Singles' Day, Christmas and the New Year sales
Assess and adjust pricing and discounting strategies
React fast to deliver the best results during the golden quarter
Weekly POS data is the secret tool that many brands rely on to compete and succeed.
Andrew Line, Head of Consumer PC & Visuals 4P, Lenovo UK and Ireland says:
"GfK's weekly data helps us to make key business decisions with full confidence and agility. With weekly data we are better informed to adjust forecasts and promotions rapidly, and to plan for crucial sales periods. It allows us to act based on what feels like live data, capturing the core of our fluid and fast-moving market. Overall, weekly data gives us an increased visibility to plan our business."


Yes, please contact me about your special Weekly POS offer: